A Brief History of the Palo Alto County Fair
The Palo Alto County Fair traces its beginnings back to August of 1926 – ninety years ago. The first ever Palo Alto County Fair drew 4H'ers, their parents, and a cross section of the local population to several tents that were set up on a farmstead owned by Dick Petty, called Rutland Park, on the northern side of Emmetsburg. Today, that location is Kearney State Park, and adjoins the Wild Rose Golf Club, along the shores of Five Island Lake.
A local centenarian remembers the rides of that first Palo Alto County Fair, as she babysat for a family living nearby. Unfortunately, the history of the early Palo Alto County Fair exists only in the memories of a few historians, our long-time 4-H supports and area residents. It is possible that there may have been an earlier county fair, but this August date and location are the first that are remembered.
Another local former 4H'er remembers the Palo Alto County Fair being held on the grounds of the old Palo Alto County Farm, approximately a half-mile south of the community, along Iowa Highway Four.  Memories of this location include a baby beef show in a barn on the county farmstead during the late 1920's.  The recollections of another local historian identify a 20-acre site north of Evergreen Cemetery, just a quarter-mile north of the old County Farm.
In the mid-1930's the Palo Alto County Fair found its permanent home on the southwest corner of Emmetsburg at the current Palo Alto County Fairgrounds after the land was donated to the fair association. Our fairground's signature eight-sided livestock pavilion, and livestock and exhibit buildings were all constructed by local contractors through the auspices of the Works Progress Administration, with work beginning in 1937. Several of these WPA buildings still exist on our fairgrounds, including the show pavilion, three livestock barns and two exhibit buildings.
Our fair board has made several major capital improvements in the last fifteen years, including a new horse barn with box stalls, construction of a new outdoor horse arena, demolition of our two oldest livestock barns and their subsequent replacement with new, state of the art pole buildings. We have also renovated the historic pavilion with a handicap accessible restroom as well as an accessible viewing area in the pavilion.  A new open air pavilion with a permanent stage was recently constructed and serves as the entertainment venue for the fair.  The addition of a new air conditioned restroom facility debuted for the 2011 fair.
Today, as it was back in 1926, the focus of the Palo Alto County Fair is to exhibit the talents and skills of our 4-H and FFA youth.  Our fair also includes commercial exhibits, evening barbeques, local food vendors, and special events including a kiddie train ride, pedal pull, face painting, and evening entertainment.
Today the Palo Alto County Fair serves 154 4-H members, three FFA Chapters, 121 Clover Kids, in over 190 families.  We are very proud of the growth of the 4-H & FFA programs in Palo Alto County, as we are seeing increased numbers, especially in the smaller animal areas of rabbits, poultry, goats and our bucket/bottle calves and bottle lambs.  The very strong Clover Kids program in Palo Alto County indicates a strong future in 4-H and The Palo Alto County Fair.
Fair Board

Colin Hoppe, President
Clyde Johnson, Vice President
Tessa Hoffman, Secretary
Kristin Ruppert, Treasurer
Kyle Hurley, Executive Board
Zach Classen
Bob Frerk
Joey Moen
Alan Montag
Cassy Olesen
Brian Rouse
Aaliyah Scott
Chris Soenen
Tiffany Tomlin, FFA Advisor
Jaxon Zaugg, Youth Representative
Josi Reiman, Youth Representative
Abi Schmidt, Youth Representative

Casey Brown, Business Manager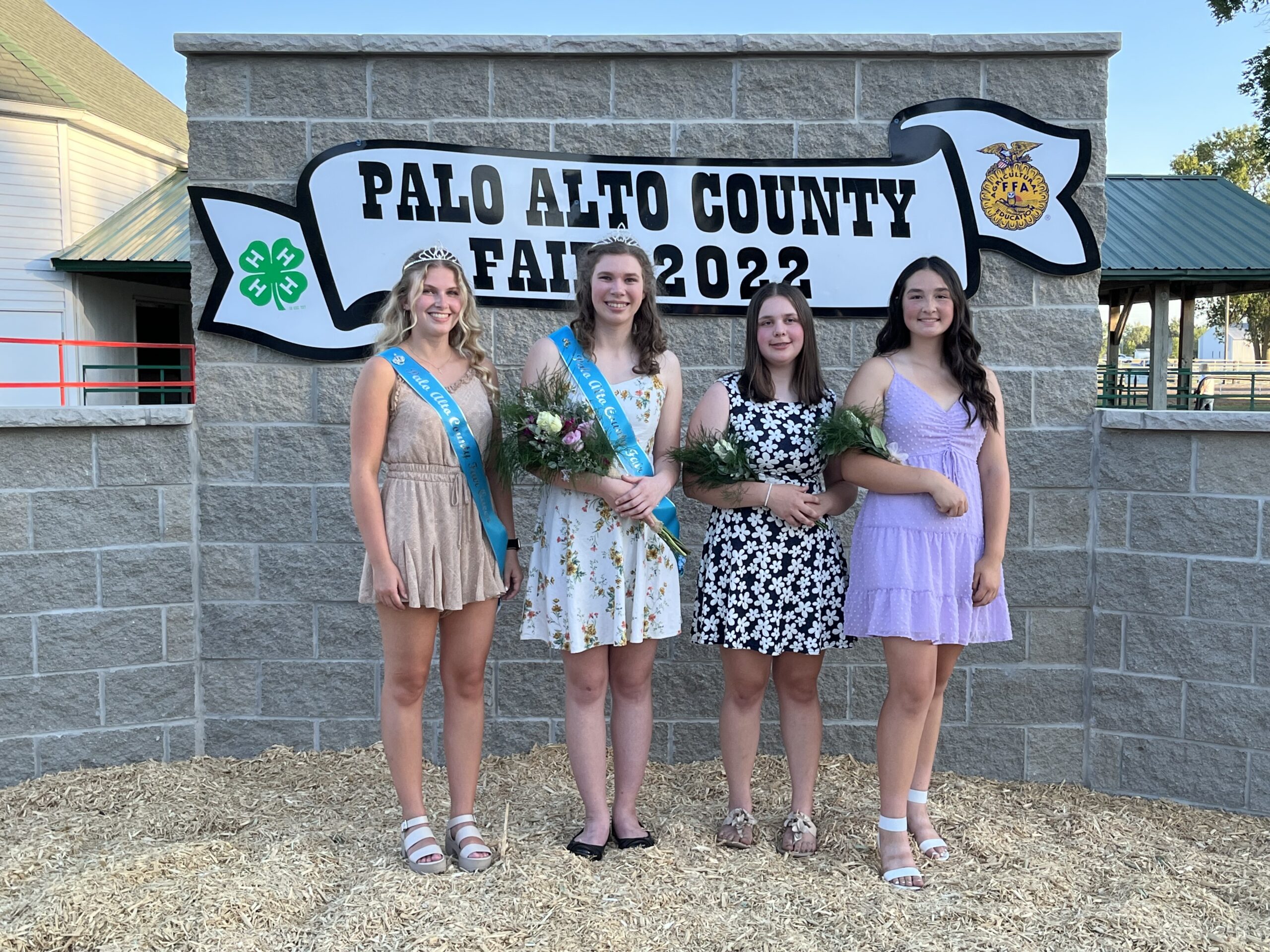 Palo Alto County Fair Queens
2022- Katie Nelson
2021 - Rachel Miner
2020 – Morgan Schmidt
2019 – Morgan Schmidt
2018 – Abigail Hoffman
2017 – Anna Sorenson
2016 – Rachel Hoffman
2015 – Cassy Olesen
2014 – BriAna Campbell
2013 – Lydia Reding
2012 – Liesel Schwartzkopf
2011 – Miranda McGrauth
2010 – Chelsey Rouse
2009 – Amber Vonnahme
2008 – Bridget Rouse
2007 – Amy Norland
2006 – Liana Luna-Smith
2005 – Karen Naig
2004 – Rachel Smith
2003 – Laura Hersom
2002 – Joannie Smith
2001 – Margy Wentzel
2000 – Dulcie Handeland
1999 – Mandy Madson
1998 – Amy Naig
1991-Kristi Stillman
1992-Angie Siemers
1989- Mary Beth Nelson
1988- Tam Sikora
1987 – Kim Campbell
1986- Penny Solberg
1933 – Lela Frieden
Please help us fill in the missing queens from 1934 – 1997.